I had a fabulous weekend and needless to say I really didn't want it to end. It began for me on Thursday. Stephanie and James were married in the Bountiful temple and I was so excited to be there to capture it. I bought a new toy for my camera - a
Gary Fong
flash diffuser! All I can say about this thing is that it makes a world of difference when using my flash! My day began at 9 a.m. and ended around 9 p.m. with me making a stop at Del Taco to grab some dinner for me and dad. Here's a little preview of the newly married Ito couple.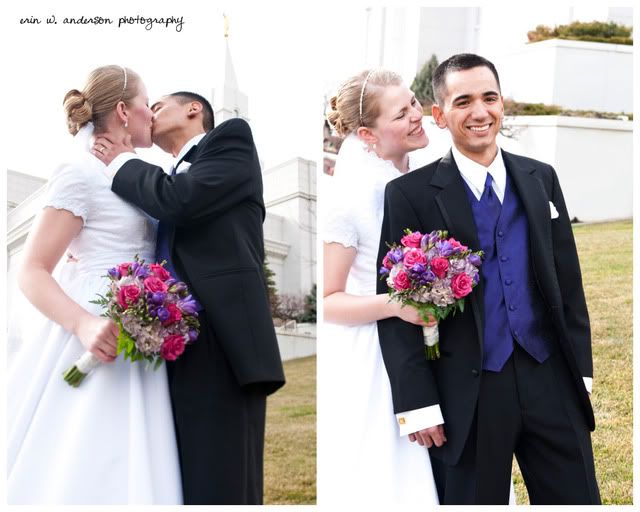 Friday was crazy as well - I had to visit with my accountant and get my taxes done. This was my first year filing with my business and I must say that the best thing to remember when running a business is to keep track of EVERYTHING! Keep your receipts, mileage and always send in your quarterly sales tax on your earnings in (or they will assume you're ignoring them and fine you an enormous amount - for me it was over $15,000 - which, luckily, I don't have to pay). So, with all that stress behind me, mom and I headed south to scout a location for the bridals I would be shooting on Saturday. I also need to add that our GPS saved my butt all weekend! We found the site after about 30 minutes of wondering. While checking it out mom lost a bank receipt out of her car and asked me to grab it. However, the wind was blowing pretty hard and every time I thought I was close enough to grab it, it flew two feet forward. I knew that if I didn't stop this little piece of paper it would scamper right down a large, steep hill. So, I threw caution to the wind and jumped on it head first. I almost went down the hill - I was also in a position where I couldn't get up, so I flailed my legs so I could turn over and stand up. When I got back to the car mom was dying - she was laughing so hard she couldn't talk. Man, I love those funny trips with mom - we always have so much fun!
Saturday came around and I was able to attend the temple with my friend Janel who was receiving her endowment - the Oquirrh Mountain temple is GORGEOUS! Anyway, we had such a fun time shooting the bridal/groomals of Lynzee and Joe. Mom and dad came along to help and I really think that my dad missed his calling - he's wonderful at fixing the little details and making sure my photos look perfect! Mom was wonderful moral support :) I love these! Enjoy - more to come!