This week's photo comes from the ever-amazing
Rebekah Westover
. Now, we have a personal connection to Rebekah, she shot our wedding - and she is one of my photographer idols! She makes her own style, never follows trends just because everyone else is. She creates for herself - that's the most important thing when you're in this business. You can catch a great Q&A session with Rebekah
here
.
I had a hard time picking just one of her photos - they are all amazing!
And now, a picture of us taken by Rebekah!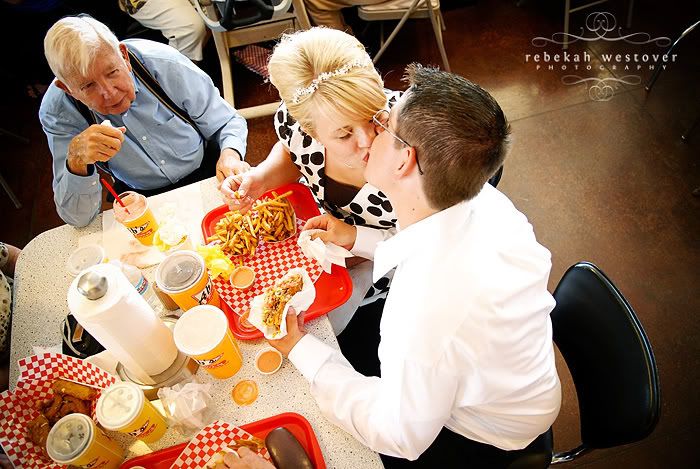 This week went by really slow. Things slowed down at work - and when that happens I tend to die of boredom, and I don't have a Dwight Schrute to revive me. So, I got through the week on listening to my Justin Bieber station on Pandora (don't judge, some of his songs are catchy, and I really don't feel too ashamed, apparently 'Glee' will have Bieber Fever next week).
I've been a bit disappointed by 'Glee' lately, with the exception of their 'Thriller/Heads Will Roll' mash-up. I think the story has taken a bit of a dive and they don't sing as much as they used to - and when they do the songs aren't that exciting.
Matt and I have become addicted to 'Bones.' I started watching it about a month ago - you can watch seasons 1-5 on Netflix. One day Matt came home and I was watching it, he got hooked and now he won't let me watch it without him.
Here's hoping you have a fabulous weekend!