Some of you might know that
my first try with donuts
was an epic fail. This time I wanted to do everything right from the start. So, I actually got out our deep fryer, bought a ton of vegetable oil and a donut cutter. Poised to go, I started this afternoon and made the dough - which had to chill in the fridge for two hours - and I felt very accomplished.
After those two hours that I filled with work and getting ready for the day, the dough was ready for the fryer! I have to admit that I was pretty excited to use the fryer for the first time, we got it for our wedding. I followed the instructions, something I rarely do but I didn't want to burn my hands off, and it all went unexpectedly smooth. But I did double the recipe, and we're up to our elbows in donuts - I gave a bunch away to neighbors and took the bulk of them to work. So, now that I have a major tummy ache, I will share some pics and the recipe. Enjoy - they were pretty easy to make, just time consuming.
Dough cutting - I have no rolling pin, so I improvised with my Pam bottle :)
Deep fryin'!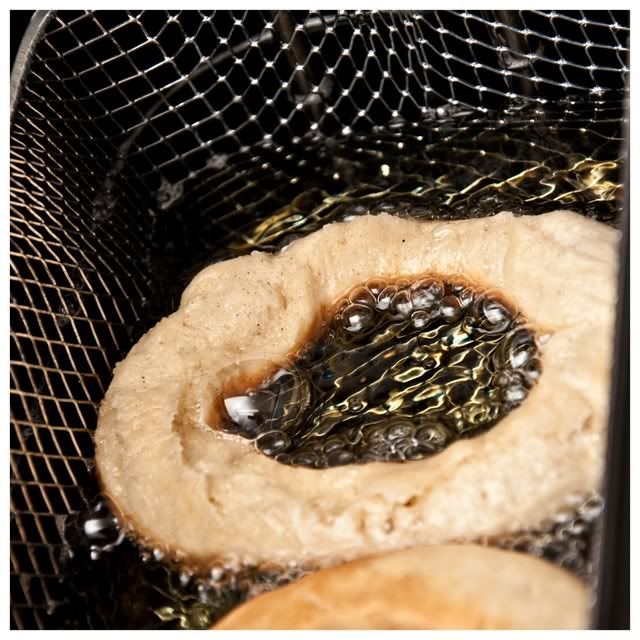 Let dry a bit!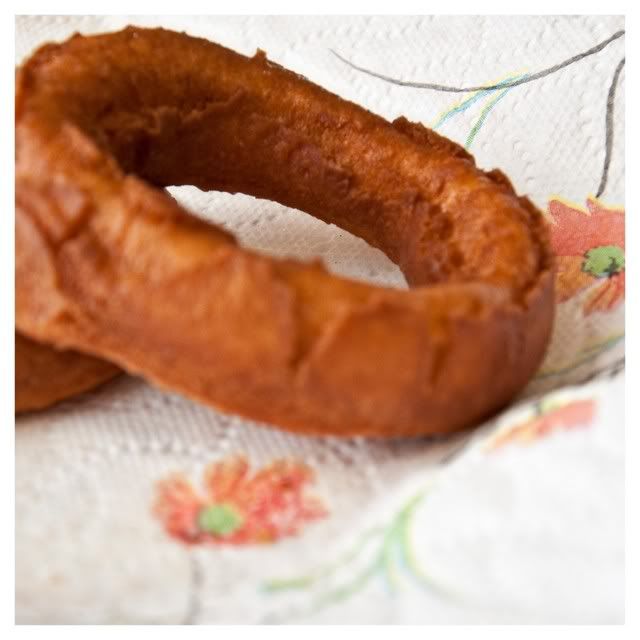 Dust with cinnamon and sugar! Yum!
Finished product!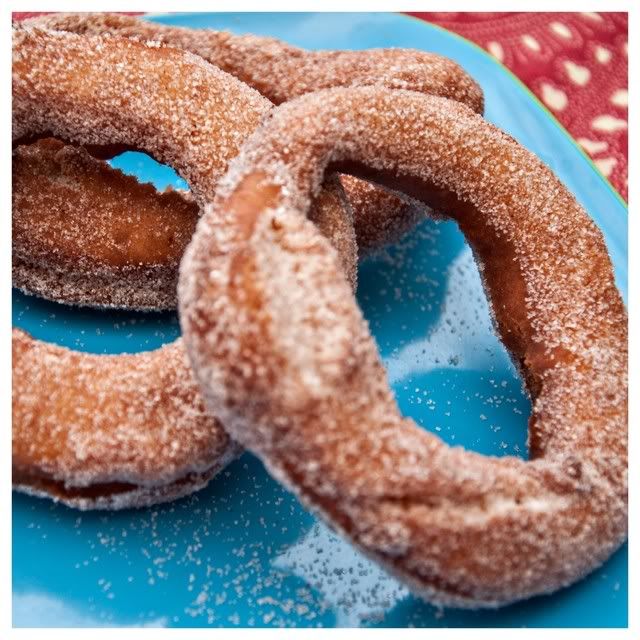 Ingredients
2 tablespoons unsalted butter, softened
1-1/2 cups sugar, divided
3 eggs
4 cups all-purpose flour
1 tablespoon baking powder
3 teaspoons ground cinnamon, divided
1/2 teaspoon salt
1/8 teaspoon ground nutmeg
3/4 cup 2% milk
Oil for deep-fat frying
Directions
In a large bowl, beat butter and 1 cup sugar until crumbly, about 2 minutes. Add eggs, one at a time, beating well after each addition. Combine the flour, baking powder, 1 teaspoon cinnamon, salt and nutmeg; add to butter mixture alternately with milk, beating well after each addition. Cover and refrigerate for 2 hours.
Turn onto a heavily floured surface; pat dough to 1/4-in. thickness. Cut with a floured 3-1/2-in. doughnut cutter. In an electric skillet or deep-fat fryer, heat oil to 375°.
Fry doughnuts, a few at a time, until golden brown on both sides. Drain on paper towels. Combine remaining sugar and cinnamon; roll warm doughnuts in mixture. Yield: about 2 dozen.
Nutrition Facts: 1 doughnut equals 198 calories, 8 g fat (1 g saturated fat), 30 mg cholesterol, 112 mg sodium, 29 g carbohydrate, 1 g fiber, 3 g protein.
I guess it's safe to say that our weight loss is out the window. Such is life.