I was putting together a recipe book for my mom for Christmas and decided to add a couple I found off of the Bakerella website. I love
Bakerella
! So, I found this cookie-filled-brownie recipe and decided it sounded so yummy it had to go in the book. I asked fellow photographer
Bodie Brower
to help me out with some website questions and offered to pay him - but in the background of the phone call his adorable, pregnant wife said all I needed to bring was brownies (she had been craving them). The Browers have been so kind to me, the least I could do was try out this new recipe just for them.
Begin by following the directions on a box of Betty Crocker Original Supreme brownie mix. Once you've done that fill a 9x13 inch pan with that mixture.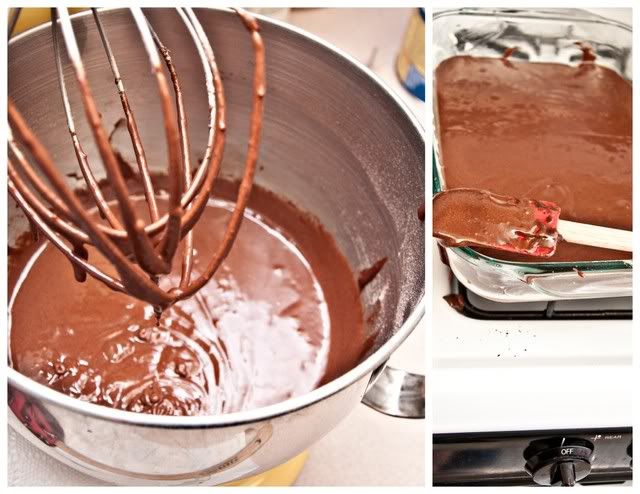 Next mix up a Betty Crocker chocolate chip cookie mix. Then drop 1-inch balls of dough onto the brownie mix. Press lightly.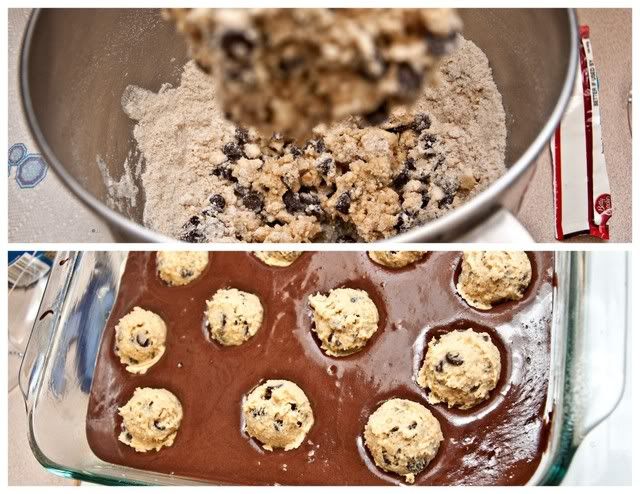 When your finished put the pan in the oven @ 350 for 35-40 min. Mine went for about 40, but it depends on your oven. Test it with a toothpick or fork and make sure those come out clean. Then set the cooked brownies aside to cool for at least 30 min. Mine looked like this.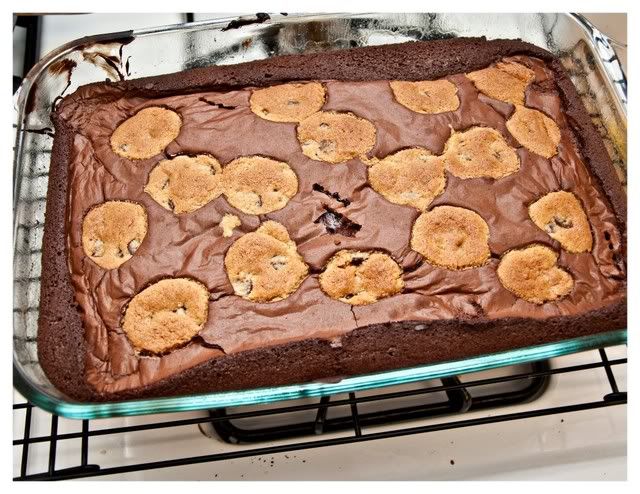 When it's cool, spread a tub of Betty Crocker Rich & Creamy chocolate frosting on top. Let set.

On top of the frosting goes the chocolate ganache! Heat to just before boiling 3/4 cup heavy cream and 6 tbps. butter. Pour over 1 12 oz. bag of semi-sweet chocolate chips. Stir until smooth and delicious!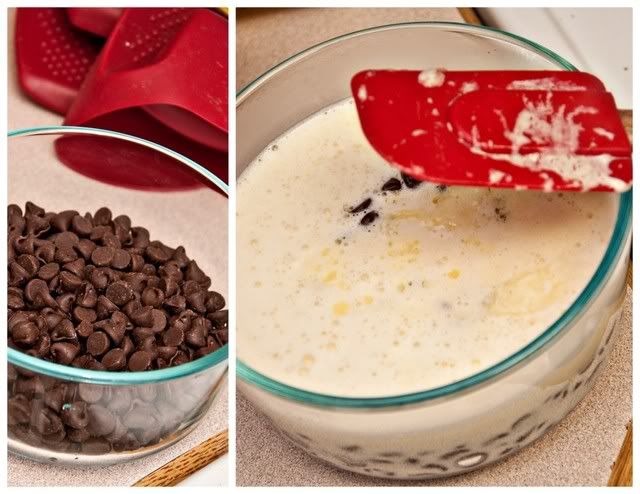 Spread ganache over brownies and let stand. I would recommend you put it in the fridge, that makes it easier to get the gooey brownies out of the pan - you can always heat them up later, but for cutting and serving it would have been nice to do that. Mine sort of fell all over and made a big brownie mush (but still soooo good!).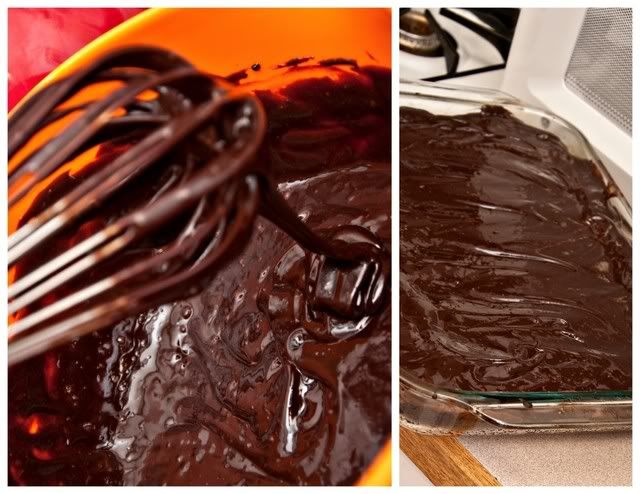 For a first try I think they turned out really good. Although, I think you can choose to use either the frosting or the ganache, using both makes it really mushy - placing them in the fridge for a while might help with that, though. It's your choice. We had a good time eating this - we probably shouldn't have, but it was so worth it!

Brownie Yum

- Betty Crocker & Bakerella

For brownies:

1 box Betty Crocker Original Supreme brownie mix (with chocolate syrup pouch)

1/3 Cup vegetable oil

1/4 Cup water

2 Eggs

For cookies:

1 punch Betty Crocker chocolate chip cookie mix

1/2 Cup butter or magarine, softened

1 egg

1 container Betty Crocker Rich & Creamy chocolate frosting

1. Heat over to 350. Spray bottom only of 13x9-inch pan with cooking spray, or grease with shortening. Make brownie mix as directed on box, using oil, water and 2 eggs. Spread in pan.

2. Make cookie mix as directed on pouch, using butter and 1 egg. Drop dough by rounded tablespoonfuls evenly onto brownie batter; press down lightly.

3. Bake 35-40 minutes or until toothpick inserted 2 inches from side of pan comes out almost clean. Cool on cooling rack 30 min. Frost with frosting. For brownies, cut into 8 rows by 6 rows.

Chocolate Ganache

12 oz. semi-sweet chocolate morsels

3/4 Cup heavy whipping cream

6 Tbsp. butter

In a small saucepan, heat cream and butter until just before the boiling stage.

Pour over the chocolate morsels.

Let stand about 20 seconds and stir until smooth.

Pour over brownies and let set before cutting.