Matt and I invited our friend Dan over for Sunday dinner last night and, if I may say so myself, the food was sooo yummy. We headed into the kitchen after getting home from church, we had 45 min. to make fettuccine Alfredo before Dan arrived. Matt took care of the chicken and I handled the pasta and sauce. I love it when we can cook together!

Matt's the "spice it up" man, so he mixed up his egg mixture with a bunch of our spices and then his flour mixture the same way. He then dipped the chicken strips in the egg and then flour before placing them in a frying pan filled with olive oil.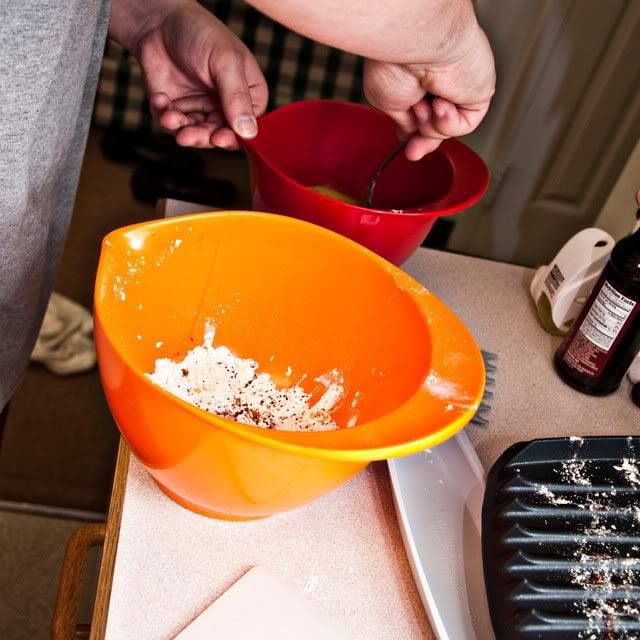 While he was busy with that, I got the pasta in the boiling water. I also got everything together for the sauce. We cooked for three people, so I had to alter the recipe. Three sticks butter, 1 1/2 cups Parmesan cheese - cream together. I took a look at that and figured it need something more, so I added parsley, garlic and little milk. Put everything together and there you go!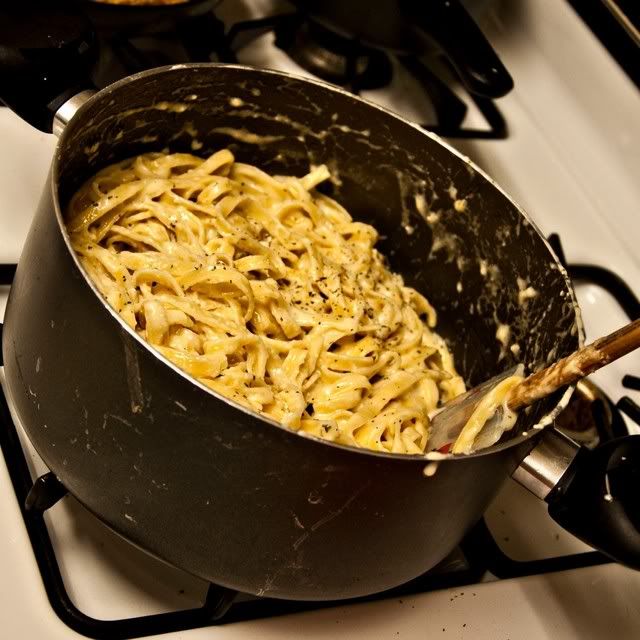 The chicken turned out golden brown and delicious - thanks to my hubby!

Garlic-cheese bread finished it off. Yum!!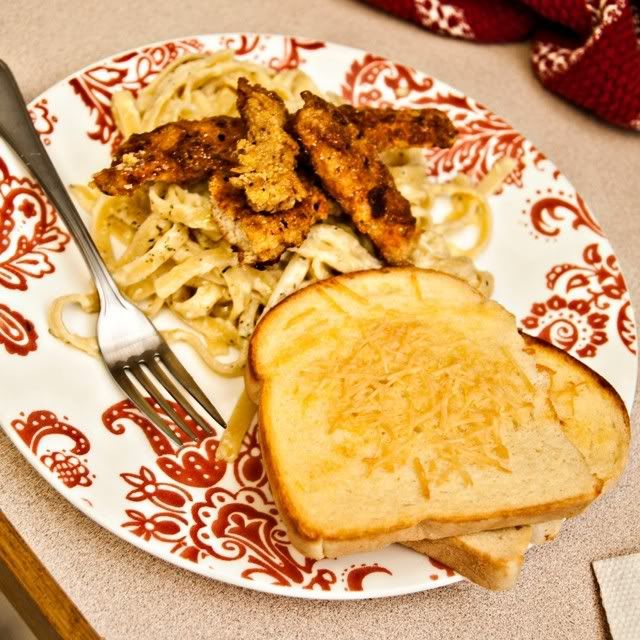 Fettuccine Alfredo Recipe
Sauce:
3 sticks butter, softened
1 1/2 cup Parmesan cheese
parsley and pepper to taste
1 clove garlic
1 tbsp. milk
1/2 cup water from pasta bioling
Cream ingredients. Heat up a bit in a sauce pan before adding water. Add to pasta, about 1 lb. fettuccine. Add a little more Parmesan cheese, parsley and pepper to taste.

It's your choice to add chicken, we fried some up and it was very tasty. But you could bake or grill the chicken also.

Enjoy!
p.s. I realize that this meal is not part of our new dieting lifestyle, but you can't be perfect always. Just roll with it.