Allison and I went out for a girl's night last Wednesday to Texas Road House. I hadn't been there, because the line is always way out the door, and Allison was all for it - so we made out way there. I finally finished a bridal shower gift I gave her three years ago - I know, I'm terrible - but, nonetheless, she has it now. I made her a recipe book filled with family recipes handed down for generations - I think she was most excited about having all of mom's salad recipes in one book!

I always have a wonderful time with Allison - she's literally my oldest friend. I met her about two days after we moved into our house, I was eight and she was seven. Her dad was putting up a fence in their back yard and I went over with my dad for a chat. I still remember her standing there with her blonde hair half-up in a ponytail. Later on we hung out a bit through junior high and high school - but it was in college, when we were roommates, that I felt like I truly got to know her. She was my escort when I received my endowment in the temple and on the day Matt and I were sealed. I love her so much! She's an excellent friend - she knows me for who I am, we can talk about anything.

Well, she's doing this cool new thing where she takes a picture of what she does ever day and then she journals about it. So, instead of only having pictures scrapbooked from holidays, birthdays, etc., she now has a picture from everyday and a story to go along with it. On our girls night she forgot her camera, so after we ate our enormously yummy meal, we snapped a quick pic with my phone on the way out. This one's for Allison!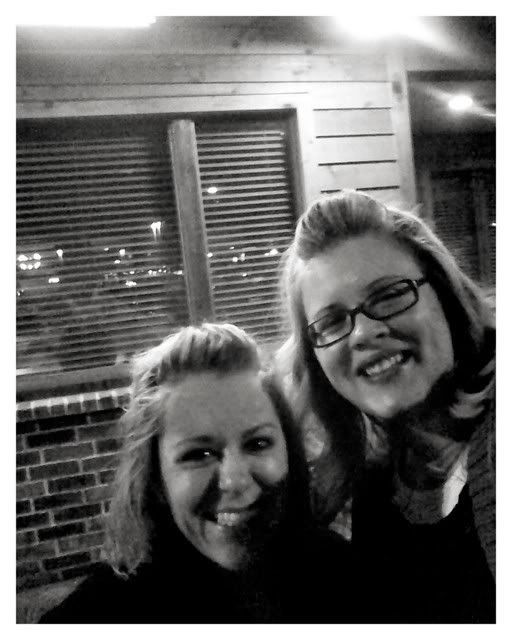 Please forgive the picture phone quality.